General Purpose Gripping Aid
SKU AH-SMALL-L
Product Details
Active Hands General Purpose Gripping Aid
Ships Australia-wide
NOTE: GENERAL PURPOSE GRIPPING AIDS ARE SOLD INDIVIDUALLY
Durable and versatile
General Purpose gripping aids are perfect for so many activities – at home, in the gym or while you're out and about. Whether you've had a stroke, living with a spinal injury or have any condition which reduces your hand function, our aids could put lots of activities within your reach:
Working out in the gym (holding free weights, using a rowing machine)
DIY at home (using a saw or hammer)
Holding a pool cue
Rowing or kayaking
Gardening
Holding a glass or bottle
How General Purpose Gripping Aids Work
General Purpose Gripping Aids function by the tightening of a strap in the upper section, which gently pulls the hand into a fist shape, adjusting to hold items in the palm. The wrist strap is also adjustable and the aid is padded to reduce chafing. This video contains instructions on how to put the aids on, or you can download the General Purpose instructions.
Choose Your Size


Most adults find that 'Standard' size fits them, however General Purpose gripping aids are also available in 'Small' (for adults with especially petite hands and children aged over five) and 'Large' sizes; for children aged under 5 the 'Mini' size is perfect.
Built Tough
Active Hands aids are both kind to the skin and made to last. Built from tough webbing and comfortable but durable neoprene (wet suit material) they're designed to withstand regular use, even for strenuous activities. All aids are machine washable.
Size Guide*
Use this size guide to find out which Active Hands gripping aid will best fit your hand and wrist.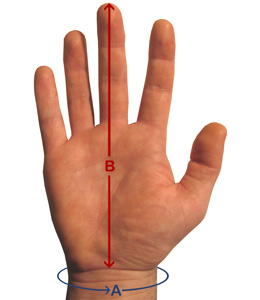 A = circumference of narrowest part of wrist
B = length from crease line (where hand joins wrist) to tip of middle finger
A: Wrist
| | | | |
| --- | --- | --- | --- |
| Mini: | Small: | Standard: | Large: |
| 120mm – 140mm | 135mm – 150mm | 145mm – 185mm | 180mm – 220mm |
| 4.7″-5.5″ | 5.3″-5.9″ | 5.7″-7.2″ | 7.1″-8.7″ |
B: Wrist to Middle Finger
| | | | |
| --- | --- | --- | --- |
| Mini: | Small: | Standard: | Large: |
| 120mm – 140mm | 135mm – 175mm | 175mm – 210mm | 195mm – 280mm |
| 4.7″-5.5″ | 5.3″-6.9″ | 6.8″-8.3″ | 7.7″-11.0″ |
*measurements are approximate
Rough size guide by age:
| | | | |
| --- | --- | --- | --- |
| Mini: | Small: | Standard: | Large: |
| Children up to age 5 | Over 5s and petite adults | Adults | Those with larger hands |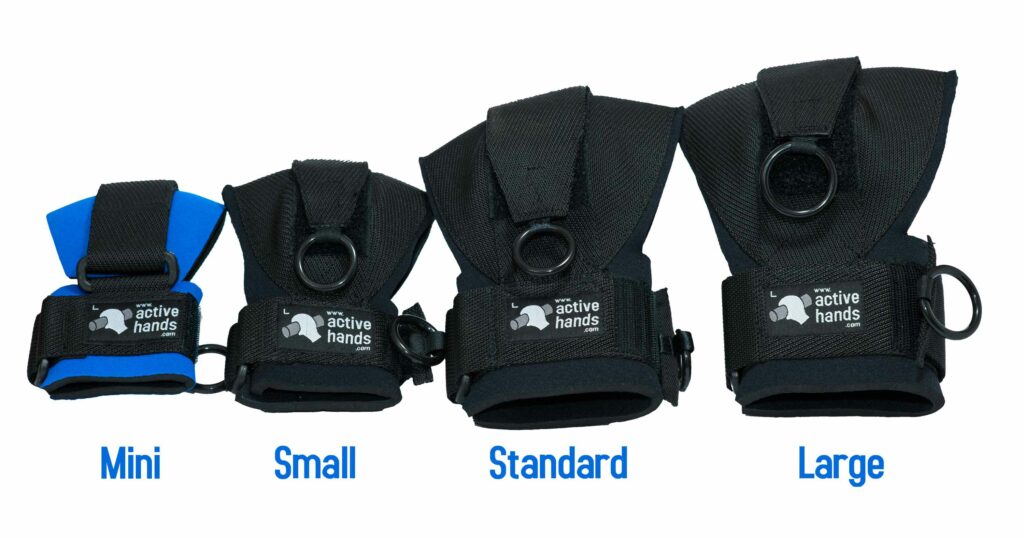 Save this product for later